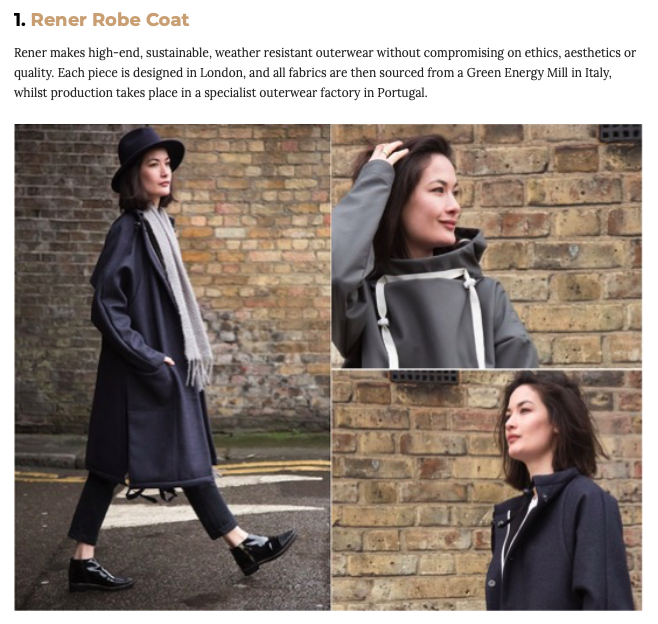 ETHICAL VEGAN JACKETS AND BOOTS FOR RAIN AND SHINE
Yep, I know: April showers bring May flowers, right? But it seems that as lovely as the rain may be, sometimes it gets on my nerves. And on my outfits! So a good raincoat is a must. But what makes for a great raincoat?
If you ask me, it should be: timelessly stylish, lightweight enough to stuff into your handbag if you're not wearing it, and of course, vegan friendly.
But it's not only our clothing that can get soaked, of course – it's our feet! So a good pair of waterproof, vegan-friendly boots is also a must-have spring wardrobe item.
I've searched around for some of the best vegan jackets and boots; stuff I consider to be rainy day fashion essentials, that will make you truly shine, even when it's gloomy outside!
http://www.milli-on-air.com
Danish-inspired and born in Aalborg, Denmark, RENER has carved itself a niche with its weatherproof outerwear for women. Minimalist cuts and chic colourways are the name of the game, from the longline rubberised 'robes' and 'trenchers' in forest green and inky tones to the short, boxy anoraks with oversized pockets and contrasting drawstring details. But for RENER, ethical practise is just as important as quality design. The entire range is seasonless and built to last, using fabrics sourced from a Green Energy Mill in Italy, making a trench from here a long-term investment instead of a flash-in-the-pan mac that lasts one festival season.